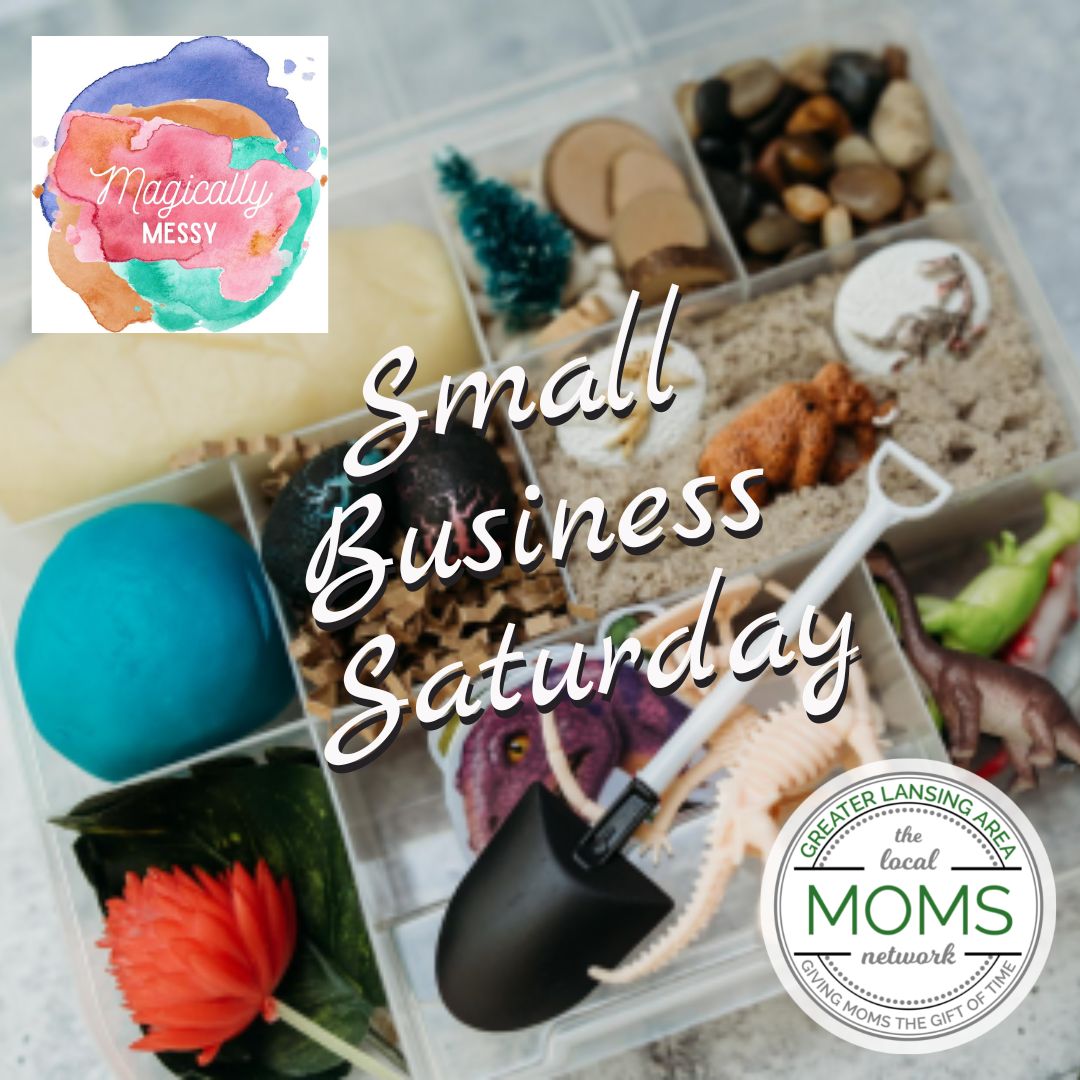 Small Business Saturday is back!  And this week we have Magically Messy.  Magically Messy is owned and operated by Branda Peck. This creative and ever changing idea is the result of both inspiration from her own children and from her past students.  Branda is a certified K-8 science teacher and now SAHM who is bringing clever, engaging and messy fun to you in a neat way. :).  Learn more about Branda and what she is looking forward to in months to come!  Welcome to Greater Lansing Area Moms Branda 🙂
Tell us about Magically Messy! 
Magically Messy was created from the desire to make fun and engaging play doh sensory kits for my children. My son, was gifted a sensory bin and ended up playing with it for two hours straight! I realized that we had been missing out on these fun sensory experiences and I knew that I could recreate them for him! Once I realized how much fun he was having I decided that other moms and dads might also want to offer these bins to their little ones! I love that these sensory bins allow children to explore and create using their imaginations!
What's your background? What made you go into what you're doing now? 
I am a certified K-8 Science Teacher who ended up becoming a SAHM when my son was born! We then had my daughter and while I couldn't imagine things being any different. I felt like I wanted to do something for myself. Creating Magically Messy was my answer! I'm able to build bins to provide entertainment for my children and I get to use my creativity when I build each bin!
Where do you get your inspiration for the themes of your Magically Messy Bins? 
Honestly, all my bins have been inspired by my children! I typically pick themes based off what they are interested in! Kieran loves dinosaurs and trucks so I was sure to create bins that he would love playing with! Rowen is a bit new to the sensory bins but she loves unicorns and so I made sure to create one for her! I also love to hear from others though and I also can do custom orders if you have something specifically in mind!
What do you love about having a business in the Greater Lansing area? 
I love how creating this business has opened opportunities for me to make more connections with other local moms and businesses! It feels like I'm constantly making new friends and I LOVE hearing how much fun the bins bring your littles!!
What are some exciting plans you have for the business in 2022 and moving towards 2023?
I am still planning on rolling out new bins each month! There will be some seasonal ones as we quickly approach the upcoming stretch of holidays! I'm also finishing details on a monthly subscription, where you will receive a new bin at the beginning of each month! Lastly, I've had so many requests about bins more tailored to younger kiddos. So I'm going to give it a whirl!
What are a couple of your favorite businesses in the Greater Lansing area – other than yours, of course :)?
I am currently OBSESSED with @shopmomwithme Emily has these stackable bracelets that I can't get enough of! She's always putting out fun new products and I've currently got a few items sitting in my basket ready to buy!!
I also love everything that comes out of the kitchen from @pandabakery88 I'm so excited for all her super fun holiday offerings! My kiddos love the paint your own cookies she makes! They are tasty and a fun activity all in one!!
Thank you for sharing Magically Messy with us, Branda! 😊 Want to learn more?  See the links below!