This week GLAMoms are excited to share a newer small business.  Nestled across the road from the Bath Middle School, Candy's Wild Wood has quickly become a local gem.  Most days you will find, "The Wood Shop," doors up, open sign turned and woodworking underway.
We met with Candy and her husband Ramon – while they worked – and they shared about their business, how it came to be and how travel is a driving force.
Welcome to Greater Lansing Area Moms Candy, Ramon and Candy's Wild Wood 🙂
Tell us about Candy's Wild Wood!
We moved to Bath in 2017 and we were making changes to the house.  It was built in 1934 and as we were tearing stuff apart and rebuilding we began making items from some of the reclaimed wood.  
First we made mountain art.  Mountain art is a mosaic of wood art and went from there.  We actually call it an accidental business.  We really had no plans to open a business yet when we would create something, more and more people wanted the items we were building.  As demand increased we made more items and it gave us more opportunities for artistry and creativity.  And in March 2019, Candys Wild Wood was born.
I will add it began in our basement and once we added a 19' x 29' outbuilding we call The Wood Shed in March 2021.  It really was a game changer.  
Is there a story behind the name – Candy's Wild Wood?
Not really.  I have worked at General Motors for over 26 years in Material Handling.  One day at work we were just throwing ideas back and forth amongst coworkers and I knew I wanted it to begin with Candy's and we decided on Wild Wood – and it was a collective effort. 
Right now, we are laid off from GM and we have been keeping busy in The Wood Shop.
Where did you learn woodworking as a craft?  
I did a lot of grunt work when I was a kid.  My dad had me help him when I was younger and I just continued to learn my way around woodworking.  
What do you like most about having a business in the Greater Lansing Area?  
My friends are not going to believe this – but believe it or not, I enjoy the people who stop by when I am outdoors working.  I am quite shy and not usually a person who seeks people out.  I am enjoying the people and conversation I have met since opening Candy's Wild Wood.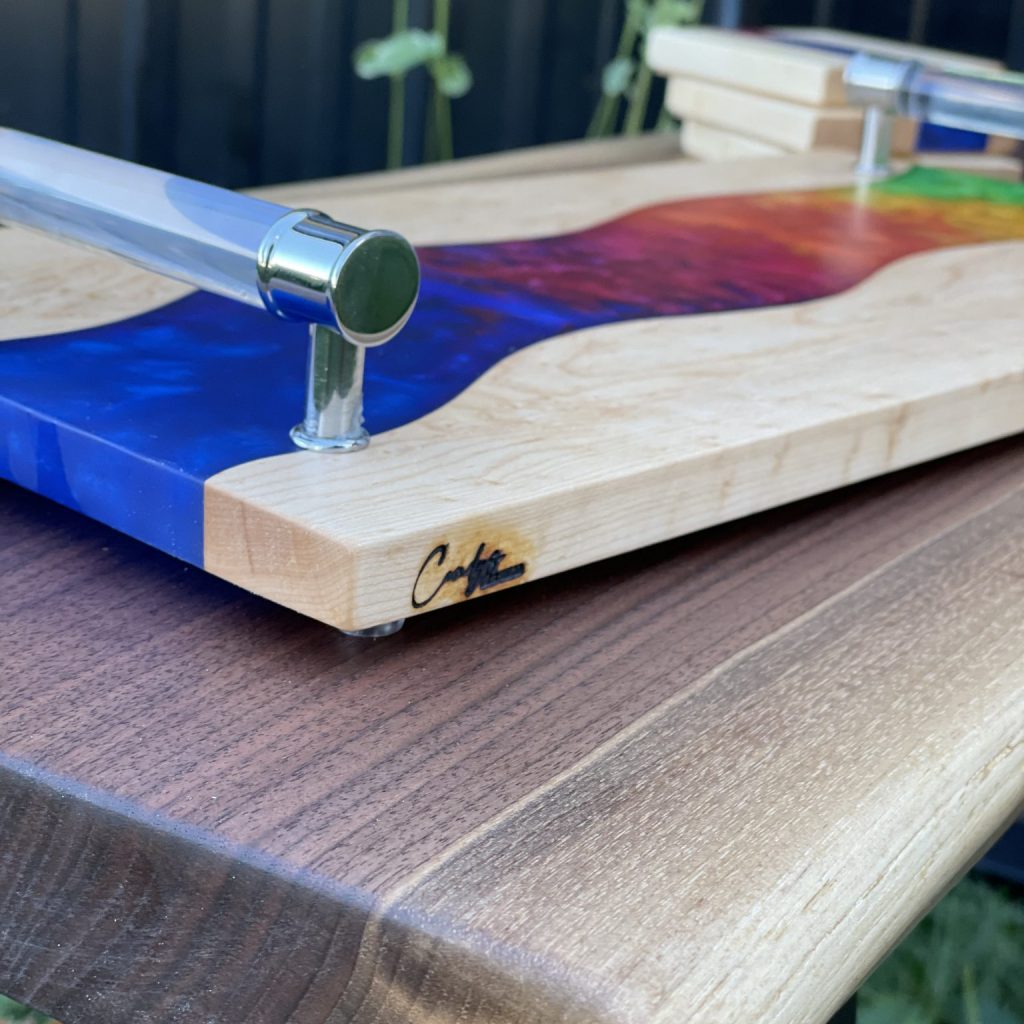 What is your favorite item to create?
Pyrography. I like transferring an image onto wood.  There are so many ways to incorporate pyrography into woodworking .  And I kind of like the smell of burning wood.  
I also enjoy resin ocean waves.  While using a resin material, it is applied on top of a piece of wood – I will include a photo for you to share.  
And by using resin we can use a piece of wood that would otherwise not be used – particularly with larger items.  We fill the disruption or flaw – a gouge or knot in the piece of wood – we fill this area with resin.  Resin is available in many colors and it has made pieces of wood we may not have used before something we make into beautiful pieces.
Do you do custom work?  
Oh, yes!  I love to add my vision to someone's idea – there are some creative people out there!  We have made over 25 custom house signs – not any 2 are the same! 
What has been the most popular Candy's Wild Wood item? 
Charcuterie boards, coasters and Michigan rounds are very popular.  I made around 60 Michigan rounds last year and they were sold within 4 days!
What has been the most challenging part of running your business during a pandemic and how did you overcome it?
The price of wood and unfortunately we had to adjust our prices.
Do you have any favorite businesses in the Greater Lansing area?
We love the ice cream at Park Lake Creamery and we were told we should try the ice cream and coffee – the affogato – I think.  We enjoy Buddies Pub & Grill in East Lansing and Jimmy's Pub also in East Lansing.  Over the course of the past 18 months, Uber Eats has had a presence in the Bath area so we have a few more options for delivery.  
And tacos.  Whoever is making tacos, yum!
You often have new items, wildly creative items – where do you get your inspiration?
Traveling.  It gives me lots of inspiration. I must travel.  I need to.  It's always been a part of my life.  I traveled all the time with my parents as a kid.   It reenergizes me and brings me back to life.  Oh and it makes me nicer. 🙂
Ramon and I share our travels.  Follow along on our Facebook page – Adventures of the Wanderbeast! We travel at least once a month and it is a necessity.  I do not work to travel but traveling provides me something I need.    While we travel I try to share a photo of the beauty we experience.  I am not sure if this page will ever lead to anything.  It has been fun sharing our journeys.   
Pre-COVID I found inexpensive flights and planned trips for Ramon and I and also friends.  And then since COVID we now travel in the Wanderbeast.  A 2020 black Extended Chevy Express.  
We were actually in Florida the last day before Disney closed. It was empty, eery.  Never have I been there and it was so empty.  We went to 4 parks in one day.  A few years ago we took our family to Disney, now we go there ourselves.  The little kids cannot hang and it is a place we enjoy as grown ups!
But no flights right now, the Wanderbeast takes us around now.  Our last trip was 7104 miles, the one before was 5500 miles and prior to that around 2500 miles.  We track ourselves on the Polarsteps app.   If you travel you should look into this app, it is fun.  
Like I said, travel inspires me and when upon return it is back into the shop.
Anything else you would like to share with GLAMoms? 
YES, we are having a HUGE sale next weekend.  We have been working hard to have a lot of inventory.  A few new things, a lot of interesting things and worth the drive.   Here is a link to the Candy's Wild Wood Maker sale! 
The sale is outdoors, right here 13626 Webster road in Bath.  If you haven't been to Bath, it is about 20 minutes from everywhere.  
And, sawdust is my glitter…. 🙂 
Thank you for meeting and showing us around Candy – we cannot wait to see what you make next.
Learn more about Candy's Wild Wood and the Wanderbeast travels:
Instagram: candyswildwood and Ramon likes the hashtags #handycandy #wanderbeast
Facebook: Candys Wild Wood
Facebook for our travels: Adventures of a Wanderbeast 
Website: candyswildwood