Monday is our favorite day of the week at GLAMoms!  We could not be more excited to share this amazing mom who also happens to be a nationally known, well-loved and respected Women's Head Basketball Coach, right here in the Greater Lansing area!  #gogreen
Suzy Merchant is #boymom of two!  This Michigan native is a coaching powerhouse who understands just how influential and important her role is in the lives of her players and area youth.   She explains the need for moms to give themselves grace and how important it is to give yourself some.
Suzy, her husband Gary and their two boys call the Greater Lansing area home yet she and her husband are from Northern Michigan.  She shares some area favorites – both locally and up north.  She also offers some suggestions for those with basketball players at home – And how to nurture their desire to play as their skills continue to evolve.  
Welcome to Greater Lansing Area Moms, Coach Merchant. We are so glad you are here!
What have you enjoyed the most about being a mom?
Watching their personalities come to life from the time you have them, encouraging their passions and seeing them light up or even struggle.   It is very inspiring being their partner as you watch these little creatures turn into grown men. 
Is there a single word you would offer as a suggestion, or advice of new moms? 
Grace.  Learn, study and appreciate the word grace.    
I took this job at Michigan State when my son was 3 months old.  When you are a working mom you put all of these pressures on yourself to be everywhere all the time.   Let go of some of the guilt I think and replace the word guilt with grace and recognize you need to give yourself some.  
How do you balance your public and demanding job with being a mom?  
One thing I realized early on was my job is a little bit more of a lifestyle and your family has to be all into the lifestyle. They have been and it is great.  
I would come home and I would feel guilty because I was not working and when I was at work, I would feel guilty for not being with my kids like other women were.  I had to learn to be in the moment.  That is part of the grace.  
When I get home, for at least the first hour, put the phone down and dive into my kids.  I ask about their day.  I help them with their homework.  And then later, if you have to do more, do more, but there has to be a time out.   There has to be a time where you put one hat on and you do not wear them both.  
Do you feel like this is evolving as your sons have different needs?  
I think so, and ironically, Coach Izzo told me when I first got this job, when they are little, you will miss them but they really do not know.  Wait until they get older and you have to miss things and they are looking in the stands trying to find you.  When you miss games and banquets and things because of your job.  That is when things get hard.   
I never thought much about it until recently. I am at that stage in their lives.  
For example, last year, I drove to the Oakland University game behind the bus.  And after the game I quickly drove over to Ford Field because my son was playing in the MHSAA State Championship game.   I got there for the second half. 
I think those are the things that hit you the hardest because you get to go through those things once.  They won!  You never know if you are going to get that chance again. 
As a mom there are different stages that you go through where they are more needy and need a little more attention.  As they get older, get a little more independent and into more things – sometimes with my position I do not always get to see some of those things.    
Those are hard times forsure.   And I go back to giving myself grace and do the best I can to be in the moment when I do have the opportunity.  
What gets you up in the morning?
Empowering, mentoring and and promoting both the girls on my team and young people in general.  I empower them, challenge them to be more resilient and better leaders.
I have the best of both worlds where I feel I can empower young women to be the best they can be. Then when I get home, I get to do the same thing with my two boys who are becoming young men. 
Would you please share more about the EmpowHER Leadership Retreat?  
It stemmed from a tragedy. We were recruiting a young lady (April Bocian) who had 25 power basketball scholarships, she was 6-4 and carried 3.8 GPA. She was raised in southern Ohio. She had hard-working parents and she was just a great kid.  And three days before Mother's Day she decided to end her life.
She was not coming to Michigan State at that time, her recruiting was still pretty open.  It just really shook me – as a coach and as a mother.
The one thing about society now is when you see things on the news it hits you hard but then you move on.  It is a 2-3 day cycle, and after, you move on to the next tragedy.  I reached out to them at the time and with her, I could not let it go.  I thought that after 3-4 weeks I would not think about this kid anymore.  I saw it as a sign, a calling and a need.   
I saw a lot of things crumble and crack. I noticed in my players who were in this age group of young women – a lack of confidence, this certain societal expectation standard, and various mental health issues.  We have seen kids at such a young age struggle with who they are and what they are about. 
I decided to start to EmpowHER Leadership Retreat.  It was not a ra-ra let's get together.  I wanted to put together content – the coursework we do,  speakers we have, break out sessions we do – how can they leave here with tangible skills?  
When there is an unfriendly person at their school, how do they deal with that?
When they struggle with social media challenges, how do they handle that? 
What does a healthy relationship look like?   When we were working with the 9th graders we noticed some girls get their identity through someone else and their validation.
EmpowHER Leadership Retreat has resonated with a lot of parents.   In the beginning it was all about the kids and then right before COVID we added one parent session and last year, the parent room was full.   The parents are struggling too.  
For me, to see that parent room completely full and wanting and needing help, truly shows how much our kids are challenged and what we need to do as a community to come together and help them.  
I struggle. I do not know how to navigate SnapChat, social media and all the technology that we have a hard time with managing at our ages – just wait, it's coming for you soon too!
Where did you grow up?  
I grew up in Traverse City.  My parents are still up there and have a lot of family in the area.  My husband is from Traverse City as well. He played football and also played in college. We grew up together.  We dated in high school, broke up and even went to the same college and ended up reconnecting 20 years after college, getting married and having two awesome boys.  
I do not get up to Traverse City often, I wish I did.  Again, the job is a little more lifestyle based and it makes it difficult.   And now that our kids are into a lot of activities and summer things it makes it even more so.  
It is a little sad I do not get there as often as I would like to.  When we do get up there, my parents have a pontoon they keep on the Torch River and it is fun  to be able to get out on the boat.
Where is a must visit when you are in the Traverse City area? 
There is a list of them, but one place I must go is Folgrellis Deli – I grew up on the west side and I used to ride my bike there.  It was a small little market then, but it has gotten a little bigger now.  It is a fun mom and pop place that has really great deli sandwiches.  
Folgrellis Deli had these two English Bulldogs that I loved (Major and Sergeant).  I grew up loving those dogs and going there for the dogs.  Now the first two dogs I have in my adult life have been English Bulldogs.  
If you had to pick one, where would you say was your favorite basketball court? 
Purdue University, Mackey Arena.  It kind of feels like you are on a stage, it is a small, shooter gym.  I like that place andI love the energy.  That is probably my favorite one as a coach.  There is a lot of history there too.  
What is the last book you read?  
The last book was by Sherri Coale, Rooted to Rise.  It was a great book and I loved the metaphor with it.  
It was on the premise of the Redwood Forest and how when most trees grow, their roots go straight down and the Redwood Forest – what makes them special, why they can withstand storms, why they are so big and strong and they last – because their roots also go out.  They connect to each other.  
After I read this book I used the idea with my team this year.  Think about how you are connecting to people in society when there is not much connection anymore.  How she was rooted to rise and help people and help people be the best people they can be.  
Do you journal or write?  
No, I need to but I do not. 
Is there something you do before every game?  
I pray.  I have a strong faith.  Prayer relaxes me.  This can be a stressful world we are in and certainly with what we do and I pray. 
I used to have a really bad habit when I first got into the business.  Before I got to Michigan State,  if I had an outfit and lost a game, I would not wear the outfit.  I am really glad we moved to comfort clothes and have gotten out of the habit because they could have been expensive..
Did you have a favorite children's book when your boys were younger? 
The Very Hungry Caterpillar and all Curious George books.  My oldest son loved Curious George and we read those books to death.
What are a couple of area favorites for carry out… or cake 😊?  
I love Taste of Thai.  So good.  They have delicious food.
Recently I have discovered Nothing Bundt Cakes – the Snickerdoodle Bundt Cake – oh my goodness.   We were invited to a grand opening and I was unable to attend.  I thought I would stop by one day on the way home and it has been the best decision and the worst decision.   We frequent there too much.  
And of course Eastside Fishfry.  That is a stable in East Lansing.  We do a lot of things with them and Michigan State Women's Basketball.
What is something you would like to see in the Greater Lansing area?  
Now that there is Chick Fil A,  I think we are in business.  My life is so simple in terms of basically work and go home so I may not be the best to ask.
What would you tell parents of children who seem very interested in basketball?  
Do not worry about playing summer travel ball and that circuit when they are young.  Spend more time on developing skills – ball handling, shooting, have them work on themselves so they can be the best shooter or ball handler – especially when they are younger.  
Wait to do that until they are older, like sophomore or junior year to introduce them to travel ball.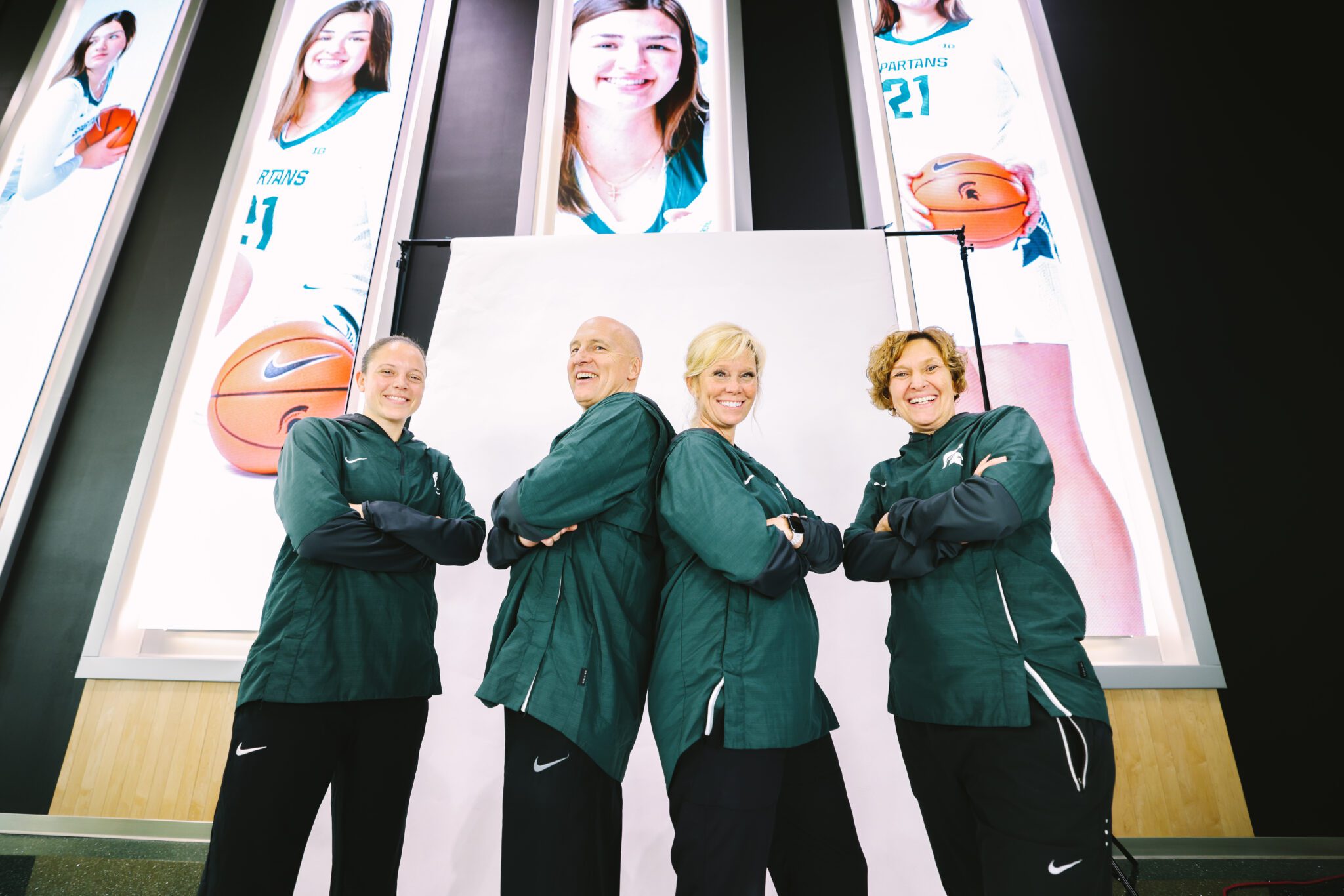 What would you tell a younger version of yourself?  
When I was younger I was go-go-go and when you get older you learn to breathe a little bit more and give yourself that grace. I do not think that I did that and I felt like everyday I had to do better, I had to do more.  It was exhausting.  
I think I would tell myself to always take care of yourself and put yourself on the list.  It is selfcare.
Happy New Year!  What do you see for you and your family in 2023? 
For me, it has a lot to do with my family.  My boys are starting to flourish and closer to moving out into the world and becoming their own people.  I have two years left with oldest at home and 5-6 years left with our youngest.  I just really enjoy having them at home, the family time and encouraging them and watching their passions.  
My oldest is big into baseball.  I am looking forward to watching him this spring, living out his dreams – it is going to be fun!  
Suzy, thank you so much for joining us!  We are honored to have the opportunity to speak with you and learn more about you.  We look forward to your future with MSU Women's Basketball and in the Greater Lansing area community!  And have a lovely time watching baseball this spring!
If you would like to learn more about Michigan State Women's Basketball and EmpowHER Leadership Retreat visit any of the links below. 
#gogreen 
Facebook •  Instagram  • Website • Join the mailing list to learn when 2022 registration begins
*all images above were provided by Women's Basketball Michigan State Athletics, images below are from Greater Lansing Area Moms.