We are so thrilled to share the GLAMom's Meet a Mom this week – Shannon Schroll is the director of Abrams Planetarium at Michigan State University!  We saw this as an opportunity to share more about Abrams Planetarium too!  Not only did Shannon talk about her amazing family and living in the Greater Lansing area, she shared many things about Abrams Planetarium and what to expect when you visit!  
Welcome Shannon!  😊
 Hi Shannon! Please introduce yourself – 
Hi! I am Shannon (aka Dr. Shannon) and I am the director of the Abrams Planetarium at MSU where I help develop and promote astronomy education programs and help run educational research around planetariums. Aside from the planetarium, I really enjoy creating things. Mostly I crochet, sew, and bake. I have also been slowly getting into gardening, finally graduating to raised beds with a fence to stop the deer from eating all my tomatoes this past year! I love doing all of these things with my two young daughters.
Where are you from and where do you live now?
I was born in California, grew up in Fircrest, Washington right next to Tacoma, Washington.  I now live in Okemos with my family, including my husband Chris, Daughters Veda and Thora, and three cats Orion, Taboo, and Lyra.
How did you and your husband meet? We always love a good love story! 
We met online on OK Cupid. We chatted for a bit while I was preparing for my prelim exams in grad school. I was very busy studying so it took a few months to meet. One day my advisor said I needed to take a mental health day so I met up with my husband for lunch. I passed my exams a few weeks later and we've been a couple ever since. 
You're a mom! Please tell us about your children and their ages. 
Veda is 8 and Thora is 4. Veda loves doing art and is excited to just have joined Girl Scouts. Thora has recently gotten into dinosaurs and fossils.
You are the Abrams Planetarium director, how did you get into such an interesting career? 
What I wanted to be growing up changed a lot. I wanted to be a teacher for a long time, then a paleontologist, then a medical examiner (thanks to Scully in the X-Files), and probably some other things. But in high school I had an open period I needed to fill and the best class was Physics. So I took it and immediately fell in love. I realized all the cool things were in space. 
In undergrad, I started teaching and volunteering with the observatory and planetarium and I was hooked. I guess I came full circle back to teaching. I went to grad school for astronomy but quickly switched gears to a joint program with education and focused on planetarium and museum education.
Your kids must think you have a COOL job! Do they ever get to come to work with you? 
Yes! I love bringing them to events. We run the Spartan Young Astronomers Club at the planetarium for kids and Veda has been coming with me for a few years. Thora comes to visit me with my husband for lunch every once in a while and they always come to special events. 
We ran Facebook Live events during the pandemic and they were often my helpers there too. I love getting to do the science with me and doing their own planetarium shows for me!
Besides the Planetarium, what is your favorite family activity to do in the Greater Lansing area? 
We go to Impression 5 A LOT. My husband and Thora go pretty much weekly. We also love going to Potter Park and right now we are going sledding a lot. We also like going on walks and bike rides when the weather is nicer.
Best piece of advice you have received as a mom? 
Get your kids involved in what you are doing. It helps them build those skills and gain confidence and it's great bonding time with them.
Now some FUN ones! Favorite restaurant?  A favorite local shop?
For a restaurant Bread Bites in Okemos. The kids love the cheese pie and fries and I have tried many things on the menu and have never been disappointed. For shops, I really recommend Quark! In East Lansing. It's a new shop with great science themed gifts run by the founder of the MSU Science Festival.
Can't live without make-up or accessory?  
I wear glasses and it's become part of my identity to always have purple glasses 👓, usually cat-eye. I enjoy vintage fashion so always have a good red lipstick handy!
Any advice for getting through Michigan winters?
Get good lotion because it is so dry! 
Favorite date night idea 
For us, we usually like dinner and movies. But the planetarium is also a great date night (just not for me because it's work!).
Current binge show 
We just binged Ted Lasso and now I am sad we are caught up. I can't wait for the next season.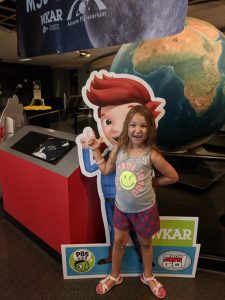 Last book you read 
I really like books on the history of things (e.g. paper, dyes, fabrics, etc) and I really love the history of food. So I just finished Secret "History of Food" by Matt Siegal
Favorite Mom Trick
Whenever I want my kids to do something themselves or practice something like getting dressed, I will start doing it silly. I will put pants on their head or try to put them on me or put it on top of a cat. 
They giggle and then decide they need to show me how to do it. It stops a power struggle, is fun for everyone, and gets them to do what they need to do. 
What is something that people would be surprised to know about you? 
I studied Russian in high school and college. It's not terribly good anymore, but I do speak some!
What's your favorite thing to do when you need some "me time"? 
Sew. There is something about sewing in particular that allows me to zone out and not focus on anything else and I find that therapeutic. 
Now Dr. Shannon shares all about Abrams Planetarium!  🙂 
Please tell us more about Abrams Planetarium!  
We are a planetarium that has been open since 1964! We provide fun and entertaining educational programming for all ages. Public shows are on the weekends and group shows are during the week. We also offer private shows and a subscription to our Sky Calendar. We can also host private events. Folks like doing this for birthday parties.
What should one expect during an Abrams Planetarium visit? 
Right now MSU requires masks indoors at all times regardless of vaccination status. We have restrooms with child changing stations in both men's and women's. 
We do not allow food or drink in the theater but do in the lobby during private events. We also ask people to keep phones off during the shows!
What sort of programs do you offer at Abrams Planetarium? 
We have Public Shows including a feature show for all ages and a family show for younger kids. Sensory Friendly versions of those are on the Third Sunday of the month. 
The first Saturday of the month we have our Spartan Young Astronomers Club for kids about 8-12. This is a 2 hour program where we dig deeper into astronomy concepts. 
Do you offer any camps or onsite hands-on experiences for kids? 
We do have the exhibit but do not offer camps. Spartan Young Astronomers Club does involve hands-on activities and we do come out to schools for science nights with activities!
What is the ideal age group for children to attend Abrams Planetarium? Kids 5 and up generally have a good time and are okay in the theater. 3 and 4 year olds often have a good time as well. Sensory Friendly shows may be a good option to test it out. 
We have stuffed planet buddies for kids who may get a little scared in the theater that can help a child feel more comfortable. We also have sensory kits available if anyone needs them. 
What do you love about being located in the Greater Lansing area? 
We are a destination which brings visitors from all over the state to our planetarium. Also being at MSU we can always find great partners in creating unique programming! 
What has been the most challenging part of running your business during COVID, and how did you overcome it? 
We were down to one staff member for almost a year and that made it hard. But everyone is back now and we are slowly moving forward. We made sure we could clean everything between shows in a safe way for our theater. But it was hard being away from folks who visit and sharing our love of the sky!
What are some exciting plans Abrams Planetarium has in 2022? 
We have the new meteorite exhibit! We also have changed our scheduling to have different shows every month so there' more opportunities to visit and learn!
Does Abrams Planetarium have an onsite gift shop? 
Yes! We have a gift counter!
Be advised – Michigan State University is requiring proof of vaccination or recent negative COVID-19 test for athletic, music, art and theatre events happening on campus. This includes the Abrams Planetarium.
Proof of COVID-19 vaccination or a negative COVID-19 test within 72 hours of the event will be required of all attendees ages 12 and up. Attendees who cannot provide the required information will not be allowed into the venue.
Thanks again Shannon for joining Greater Lansing Area Moms!  It was greater to learn about you and all about Abrams Planetarium!
Where would GLAMoms go to learn more about Abrams Planetarium?
Instagram: abramsplanetarium
Facebook: AbramsPlanetarium
Twitter abramsskynotes
Website: abramsplanetarium.org
Photos and graphics provided by Shannon Schmoll and Abrams Planetarium.