Thank you to our generous sponsor of this months Meet a Mom series
 Kristin Krieger of Coldwell Banker, Frewen Reality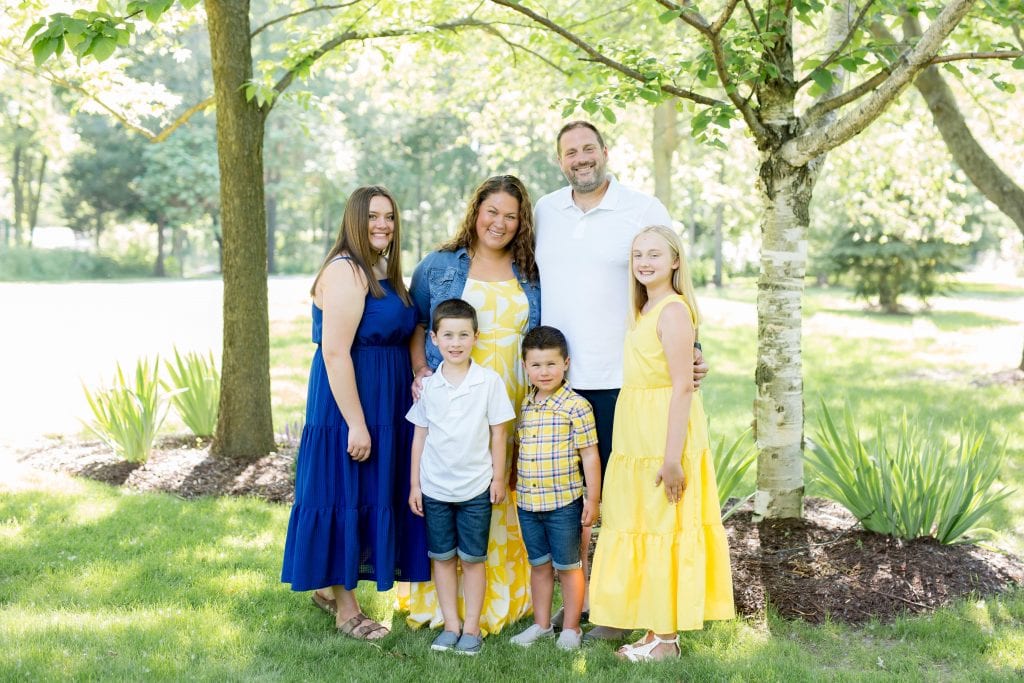 Need a cocktail?  Or rather, need something to have ready in the refrigerator for a couple days from now?  Better yet, a local, self-made mixologist that prepares your drink for you in a Mason jar, you add the spirits and let it "cook?"  We have a Mom for you!  Nicolette Skerratt is the owner and operator of Twisted Craft Cocktails; where she literally puts the twist in cocktails (her website says so too!)  
Nicolette runs a well oiled production line operation in a dedicated area of her home.  Every step of the process showcasing her eye for detail – from dehydrating fruit to packaging products to sourcing many ingredients locally to hand crafting the citrus infused cane sugar cubes (and we think that is where the magic is – in that cube of sugar!) 
And as you walk up, her house smells of citrus.  
When we first met Nicolette she was selling Twisted Craft Cocktails at East Lansing's Underground Market.  At that time she had her tasty mixer concoctions at a handful of local small businesses.   Since, Twisted Craft Cocktails is a testament to the power of word of mouth networking and can be found at multiple locations all around the state (see list below).
You will also find Twisted Craft Cocktails at many area Farmers Markets.   Most recently she was at the Ingham County Fairgrounds, Spring Fling outdoor shopping event – she was very popular – Meridian Township Farmers Market and Fulton Street Market in Grand Rapids.  
She shared recently taking part in a collective local  "spoiling" of some DeWitt area educators for Teacher Appreciation Week – temporarily changing Paradise Punch to Panther Punch.  Surely they LOVED it!  
Starting a business is hard, starting a business during a pandemic, well, we all know how difficult the past year has been.  Nicolette has taken this pre-packaged mixer idea by storm in the Greater Lansing area (and beyond) and we are happy to introduce her to ELAMoms.  
Welcome Nicolette!  
Please introduce yourself?
Hello! I'm Nicolette Skerratt, from the Lansing area, I live in DeWitt now because our family decided DeWitt was a great place to live.
How many kids do you have and what are their ages?
I have 4 kids! Two boys that are 4 & 6 and two step daughters that are 11 & 17. 
What is your favorite thing about being a mom?
My favorite thing about being a mom is seeing their pure joy playing & loving each other. (Disclaimer: it's rare, they fight like crazy too).
What do you love about living in the East Lansing area? What's your favorite restaurant and/or place to shop in the East Lansing area?
I love the people in East Lansing! My favorite restaurant is Beggars Banquet. 
Tell us a little about Twisted Craft Cocktails? When did you begin?  
I started Twisted Craft Cocktails in November 2020 and thought it would be a slow start – like I assumed any small business starts out like. Boy was I wrong! It took off and was very difficult to keep up with around Christmas but I was very happy with the love people showed for my products! 
How do you select flavors? 
I select the flavors by doing some research online and finding ingredients that compliment each other. We then taste test around 6 varieties to determine the best flavor.
Do you need new taste testers? ha-ha-ha 
As for taste testers my husband would be sadly disappointed if I took away his taste testing role. Lol!  
**Nicolette told us during a recent East Lansing Underground Market that her husband and neighbors are her go-tos when she is trying something new.  Are there any homes for sale in her neighborhood, we wonder?  Seriously though, are there? 🙂
What's the best thing about your business? 
The best thing about my business is hearing customers say they are so excited to get home and try my products. It makes me happy because this past year has sucked so much from so many that it's awesome that my products can bring excitement & happiness back! 
Who is the most interesting person you have met since your first introduced Twisted Craft Cocktails?
The most interesting person I've "met" since I've introduced Twisted Craft Cocktails would have to be the governor.  So….. I didn't meet her personally but she tried my product at a girls weekend and made a point to go into one of the stores that carry my product (with her secret service) to buy more!!! 
How do you juggle work with being a mom?
My office is on the lower level of my home so I try to incorporate a kids corner in my office so they can still be with me if I need to work. Also, I just juggle, I don't know how I do it. Moms know if it needs to get done you just make it happen. 
Now a couple of fun ones.  What is something you wish was in the East Lansing area?
I would say, a Cheesecake Factory.  It is always a treat for the entire family!
With kids at home right now, what subject do you dig helping them with?
Art! We love doing arts & crafts! 
Last book you read?
You are a Badass
Current binge shows?
Good Girls or Schitt's Creek
Strangest thing in your purse right now?
A dental mirror…my kids orthodontist gave him one and it ended up in my purse. 🤷🏻‍♀️
Outings look a little different these days, where do you head when taking the kids out?
We have been doing picnic dinners at parks and then let the kids play after. 
Best piece of advice to someone starting out in your type of business?
There will be so many areas that you are expected to know. If you aren't comfortable doing it, hire an expert! I was surprised when I had to become a branding, marketing, accounting, social media, sales, design, employer, advertising expert and was like whoa! 🤯
Last question.  What is something you might have liked to know but didn't, with your first child and now is a reflex in your mom toolbox/bag of tricks?
Time goes by so fast, let the little things slide & enjoy your time with them while they need you! Also, carry wet wipes for the rest of your life. They are not just for when your kids are babies!
Twisted Craft Cocktails website
Instagram
Facebook
517-709-8323
Here is a list of businesses around the State of Michigan where you will find Twisted Craft Cocktail:
Grand Traverse Distillery, Traverse City, Leelanau & Frankenmuth
Kymora Kandles, St. Johns
LFA, Williamston
Meijer Capital City Market, Lansing
Michigan Barn Wood & Salvage, Mason
MichiGrain Distillery, Lansing
NautiMI, Pinckney
Tailgaters, DeWitt
The Curator, Grayling
Twiggies in Old Town, Lansing
Do you know an area mom that would be the perfect Meet a Mom feature?  Email us [email protected]