It is Monday, GLAMoms and this week we are honored to share Dr. Susan Maples!  A little bit different idea this week as not only are we sharing an awesome mom in the Greater Lansing area community but we are also helping spread the word about an upcoming event Dr. Maples is hosting!
Learn more about the Brave Parent workshop on November 5th.  Joining Dr. Maples at the Brave Parent event is Dr. Tiffany Burns, local obstetrics and family medicine physician and Elizabeth Danowski, a Lansing based child psychologist.  This Greater Lansing area powerhouse trio will present ideas to not only learn more about the Brave Parent community but how to raise kids in today's world that is full of so many challenges we – as children – never encountered.
This event is a truly collaborative effort – and this group of Greater Lansing health professionals will be a fantastic forum to bring your questions and receive support from an extraordinary group of pediatric experts!
And just for Greater Lansing Area Moms – enter GLAM for $5 discount code at checkout for Becoming a Brave Parent event!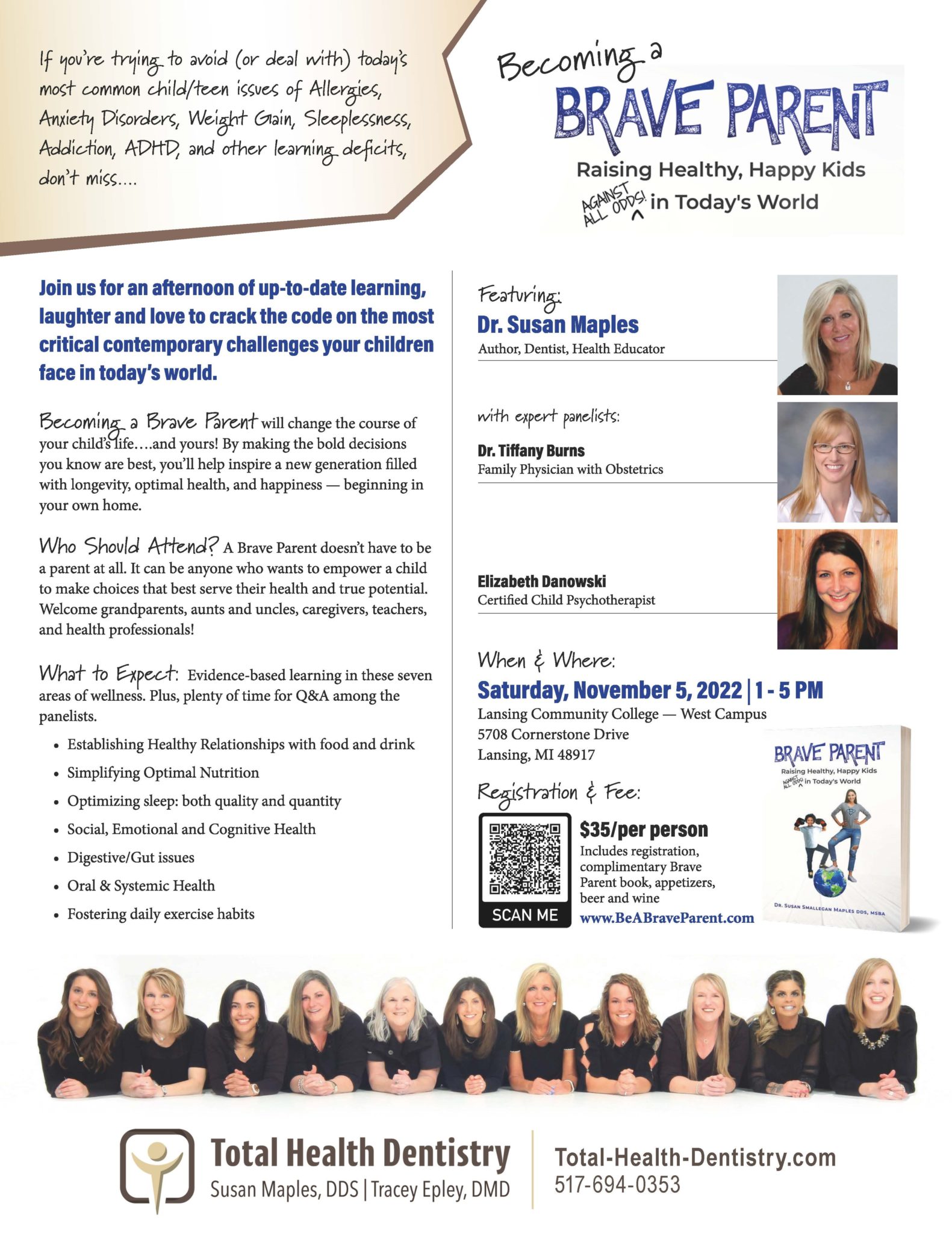 Here is a peek into a recent Brave Parent event…
Dr. Maples is mom to Hunter, a well-known Greater Lansing area dentist, pediatric health educator and author of Brave Parent, Raising Healthy, Happy Kids Against All Odds in Today's World.   Learn about Dr. Maples, some stories from when her son was a child and more about the upcoming Brave Parent event in November!  
You will also find a discount code for GLAMoms too!  
Welcome Dr. Maples, please introduce yourself! 
I am a proud native Michigander, though I travel almost weekly as a health educator and life-long student.  I practice Total Health Dentistry three days a week and spend my other days creating tools (books, podcasts and on-line learning platforms) to help the world become healthier. I love to cook, run, hike, ski and cycle.
What do you think is one of the best parts about being a mom?
The best thing about being a Mom, is encouraging Hunter to become his own person, uncover his own strengths, create a life that fosters health and happiness.  It is such a blessing to watch this all come to fruition, since he is now 28. 
Your son is grown – is there an age you recall you enjoyed?  One you thought that was particularly difficult? 
My favorite age was 3 ½ because he showed so much discovery and engaged his full imagination without one ounce of cynicism. So fun!  But in truth, I LOVED every age.  I never lamented him growing up.  We focused on giving him deep roots and big wings.  BTW, the Brave Parent book is chalked full of funny and poignant stories about raising Hunter. 
What is a piece of advice for new moms you wish you would have known when you were a new mom? 
There are so many myths around what makes for a life-long health span.   In fact, we have such a short (10-12 year) period to give them beliefs, skills, and habits for a lifetime of health.  During adolescence they start becoming heavily influenced by their peers. SO… My advice is, work on your own healthy habits.  They are watching you!  Exercise daily, listen more than you talk, stop drugging to wake up and go to sleep (even caffeine and alcohol), choose whole foods, sleep well, eat more veggies and fruits than anything else, etc.  
You are a dentist in the Greater Lansing area, please tell us more about your career. 
I bought a dental practice at 25, right out of school and have enjoyed the creative spirit of growing a wellness practice for people of all ages from birth to elderly.  Having grown up a very sick little girl and championed back to health with the mentorship of a brilliant young internist, my legacy is to GIVE HEALTH BACK.  20 years ago, I designed the Hands-On Learning Lab™ which is a science-based curriculum around health for children ages 2 to 22.   Every child, at every visit has a hands-on science experience and grows rich with knowledge.  Our aim is to put kids in the driver's seat for their own health over their whole lifetime.  I am very excited about my most recent book, Brave Parent, Raising Healthy Happy Kids (Against All Odds!) in Today's World.  
How has your work been affected since March 2020?
The covid shutdown (along with 30+ speaking engagements cancelled) gave me lots of precious time to CREATE.   I wrote Brave Parent, took on an awesome partner in my practice and accepted the presidency of the American Academy for Oral & Systemic Health.  It was fun to redesign my time and pivot.   
How did you balance being a mom and your dental practice? 
I tried to be home after school three days a week.  I enjoyed being with Hunter, not just watching him play sports.  I think it was awesome for Hunter to see me passionate about my work.   In middle school he reported to a family friend "I have a lot to think about in choosing my life's work.  I don't know how I'll ever find something I love as much as my mom loves her work.  I've never heard her complain about her work any day of her life."  He has found his chosen work and I'm so pleased that he focused on passion and happiness, not on money. 
You have written two books!! When did you realize you wanted to be a writer/author? 
My parents were both writers (majoring in journalism in college) and though they had other careers, they always loved writing…and so did I.  I had a fabulous English teacher all through high school who had very high standards.  Lucky me. 
Please tell us more about Brave Parent, Raising Healthy, Happy Kids Against All Odds in Today's World! What inspired you to write this book? 
This book has been brewing in me for decades, as I have witnessed the massive decline in human health over my 37 years as a dentist.  I was always paying attention to whole body health and one day I realized that if we are ever going to upend these lifestyle-related disease trends we need to start with children.  And we need willing adults to help.  
I faced the facts.  It is useless to wait for the food, beverage, and pharmaceutical industries to change. Plus, it's pointless to expect that we will win the war against depression, anxiety, and addiction—without a more solid basis for mental health.  And we are fooling ourselves if we think we can rely on the current health care (i.e. sick care) system to fix the problems we see today.  The system is broken.   This book is a grassroots effort. If you have an influence on any children in your life, it calls deep on your courage to read the book and get fired up about the Brave Parent Movement!
Here are a couple questions to get to know you better 🙂  
Strangest item carry on, purse, glove box or trunk right now? 
Nothing strange really, because I like to carry as little baggage as possible in life.  Less is more, so to speak.   Even when I was the mom of a newborn, I carried a diaper and Ziplock with wipes in my car's glovebox instead of a diaper bag (and his food in my breasts—LOL).  
Last book you read?  
Bale and Doneen's new book, Healthy Heart, Healthy Brain.  Also, the novel Coal River and listened on Audible to Miracle and Wonder by Malcolm Gladwell on Paul Simon. I loved all of these
Where are some of your favorite places locally to spend time with your family and friends?
Anywhere outside suits me.  I love the hike along the ledges in Grand Ledge. Good place to be introduced to top rope rock climbing too. And I love canoeing on the Grand River. 
Is there something you would like to see added to the Greater Lansing area landscape or what does Greater Lansing need more of?  
I'm sick that we sold our indoor soccer arena to Cannabis growers for 9 million dollars.  I'd like to see more outdoor spaces safe for kids to play, hike, mountain bike, and explore.   Less focus on organized sports and more focus on daily movement where kids can be in nature and grow a love for daily movement. 
What are you looking forward to as we move towards 2023? 
Offering more Brave Parent gatherings throughout the country and establishing a Brave Parent community right here in the Lansing area… where we can support parents and grandparents to grow healthier happier kids.  
I realize the old adage "A prophet is never known in their own hometown."  But I am so eager to join forces with moms who can make a difference.  Let's build this community right here!
I have also started a Brave Parent Activity Book (not the official title).   It will be a practical guide for parents, grandparents, teachers, and daycare givers—chalked full of science experiments, creative activities, cooking experiences etc., that support healthy mindsets and behaviors in kids.  I can't wait. 
Mind sharing a mom trick another mom will be happy to learn? 
Ditch the pacifiers—it thwarts the natural growth and development of the mouth and midface and predisposes kids to a lifetime of airway disorders such as Obstructive Sleep Apnea.
Also…tooth decay is 100% preventable.  Don't swap spit with babies from 6 months to 3 ½ years old and get rid of all the sweet drinks (including juice) from your household.  
Thank you Dr. Maples!  We are so grateful you joined GLAMoms as a Meet a Mom this week!   We look forward to learning more about all Brave Parent events and the community you are establishing for Greater Lansing area families!  
And GLAMoms… if you have not get your hands on a copy of  Brave Parent, Raising Healthy, Happy Kids Against All Odds in Today's World.  It is an excellent resource that serves as a recipe for healthy, happy children. 
For more information about and to follow Dr. Maples, please visit her website or social media links below! Also take a look at the YouTube link about Becoming a Brave Parent!
Enter GLAM for $5 discount code at checkout for Becoming a Brave Parent event
For more information about and to follow Dr. Maples, please visit her website or social media links below!
Photo credits: 
Dr. Susan Maples
Dr. Susan Maples was just awarded the 2022 Influence and Impact Award – 2022 Greater Lansing Entrepreneurial Awards!  
Presented by 517 Magazine 
Congratulations Dr. Maples!