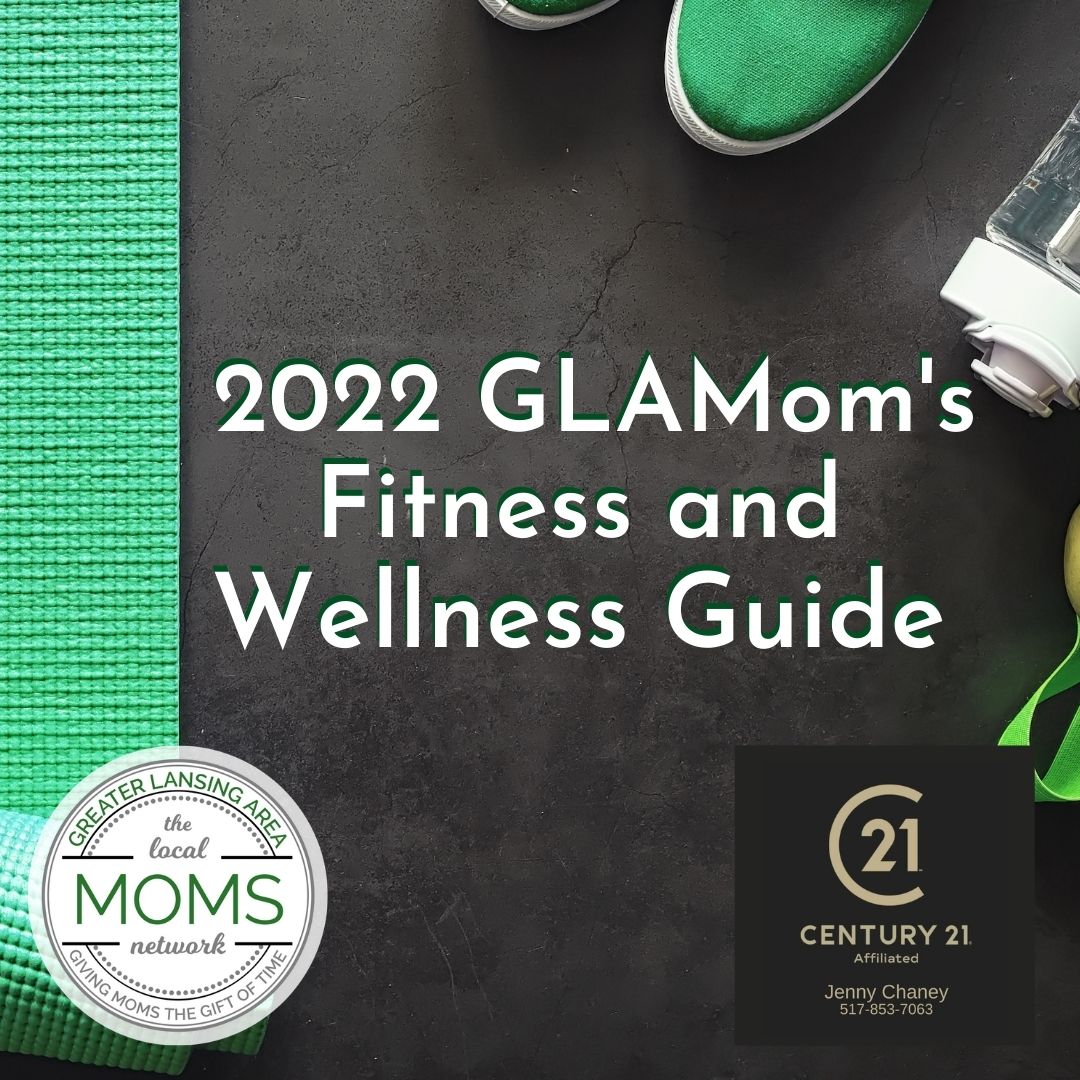 Happy 2022.  As we leave the past year in the rear view mirror, we will move forward in the new year with good intentions, some goals and activities that encourage us to be healthier.  We are thrilled to present the 2022 GLAMom's Fitness and Wellness Guide!
We resolve not to use the word resolution any longer – instead we hope to make everyday better than the one before.  How? By moving more, eating better and behaving in such a way that promotes wellness.  And if we have a bad day, that is okay, take a deep breath and we keep going forward.  
Scroll down for a list of gyms, trainers, yoga studios (some have both in person and virtual options available), as well as nutrition options to get you back on track for the new year.  
Cheers to a new year!  And a special thank you to GLAMom's Fitness and Wellness Guide sponsor, Jenny Chaney, Realtor at Century 21 Affiliated.
800 W. Lawrence Ave, Charlotte
More about AL!VE
AL!VE is an experience-based, destination health park located one mile from Sparrow Eaton Hospital's main campus in Charlotte, Michigan.
The purpose of AL!VE is to enhance the health and vitality of the region.  Winter 2021-22 Program Guide HERE.
1024 Trowbridge Road, East Lansing
More about The Barre Code East Lansing
Voted Best Gym in Lansing and Best Gym at MSU, The Barre Code is a boutique fitness studio that truly goes beyond the barre. They offer cardio, strength and restorative classes with an emphasis on self-acceptance and empowerment.
When you take a class with The Barre Code East Lansing, you'll focus on everything you have to gain and nothing to lose. They aim to promote personal growth and self-acceptance in an environment where women support one another.
Whether you are a fitness fanatic or just beginning your journey, you will find a class style that is perfect for you.
Online athletic wear retailer for those who start non stop!
More about byCRUZ
The athleticwear should be the accessory to your workout, your mindset shifts, and your ability to start again despite fear of failure.
You already have everything you need to succeed; byCRUZ wants to be the brand that dresses you to show up and #startnonstop.
641 E Grand River, East Lansing
More about Clean Juice East Lansing
Clean Juice East Lansing is an organic juice and smoothie bar that offers smoothies, protein smoothies, fresh juices, cold-pressed juices, wellness shots, wraps, toasts, greenoa bowls (our take on a salad), acai bowls, and we also have a kids menu for the kiddos to order from.
Clean Juice East Lansing is a certified organic juice bar. If clean living is important to you then we are the right place to visit. We don't add any sugar to any juices or smoothies. Only items listed on the menu are in Clean Juice products. 
2010 E Michigan Ave, Suite 107, Lansing
More about emPOWer Lansing
emPOWer Lansing is Mid-Michigan's premier boxing and fitness studio. Regardless of where you are in your fitness journey, our classes are designed to help you reach your goals. 
Promotion for GLAMoms – $1 for the first month and $67/month after that!
2650 E. Grand River Ave. East Lansing
More about F45 Training East Lansing
F45 Training is an innovative, technology based group fitness studio that specializes in functional HIIT movements.
We pair interval cardio and strength training with high-energy music, professional trainers and a positive and encouraging environment. No workout is ever the same. Our team training is LIFE CHANGING!
Promotion for GLAMoms – No code needed. 7 Days for $7!
118 S. Washington Sq Suite C, Lansing
More about Firefly Hot Yoga Barre
Firefly Hot Yoga Barre is a far infrared heated movement studio located in downtown Lansing that is committed to elevating ourselves, those around us, and our planet. They offer yoga, barre, aerial, and fitness classes that are designed to support students in their journey to a higher state of well being. Come with an open mind and we will meet you where you are…. Firefly Hot Yoga Barre strives to create a comfortable space where people of all shapes, sizes, backgrounds, are welcomed and encouraged to shine!
Whether you are looking for an amazing community, athletic conditioning, increased flexibility, stress reduction, weight loss, or a more mindful workout, this is the place for you!
Come for the sweat, stay for the sanity!
Promotion for GLAMoms – First class is always free, drop ins are $20 (save $10 with code GLAMom) or take advantage of our new student offer of 2 weeks unlimited for $15. One per person. 

Use code GLAMom for $10 off!
2222 E Michigan Ave, Lansing
More about FLEXcity Fitness
FLEXcity Fitness is an interval-based fitness studio blending leading techniques into a one-of-a-kind training concept. 
Our team of passionate and highly-skilled trainers will guide you through classes that leave you sweaty, smiling and feeling your very best.
Our method was developed to make exercise fun, efficient and most importantly, effective. FLEX is an instructor-led small group training class that alternates between cardio and strength training.
Promotion for GLAMoms – 2 week, unlimited trial for only $39!
315 S. Bridge St. Grand Ledge
More about Ledge's Sweat Shop
Ledge's Sweat Shop and Events is a fitness studio offering a range of cardio and strength classes, as well as being an event facility.
They have been dedicated to helping our customers on their fitness journey for over 5 years.
Ledge's Sweat Shop also hosts all types of events, from small birthday parties, bridal and baby showers, to large community events such as the annual Grand Ledge Chili-Cook off.  Ledge's Sweat Shop looks forward to seeing you!
13575 Airport Rd, Lansing
More about Mind & Body Symmetry
Mind & Body Symmetry is a fitness studio specializing in mental well-being and physical fitness.
We specialize in boxing, women specific group fitness classes, anti-bullying youth fitness classes and personal training.
More about Nourish & Lift
Nourish & Lift provides nutrition consultations and programs along with facial diagnosis consultations. These sessions provide insight into the health of your organs, beneficial foods, and ways to help move emotions through our body.
The focus is on whole body wellness and the development of a deeper mind/body connection.
Online retailer of 100% organic, US grown and manufactured CBD products
More about Nuvita
Nuvita – a woman owned and run cannabis company is spinning the self-care industry towards the greater good of giving back. At the heart of our wellness philosophy is pure quality and transparency. In the era of fast fashion, Amazon's endless marketplace, and questionable gas station CBD's, we are dedicated to providing quality, 100% organic, US grown and manufactured CBD. All of our cannabis is Certified Glyphosate Free. 
Promotion for GLAMoms – Use code GLAM for 10% off of your Nuvita purchase!
3544 Meridian Crossings, Suite 160, Okemos
More about pure barre okemos
Pure Barre is a 55 minute, full body, low impact workout that can be done by anyone at any fitness level!
There is nothing better than one hour at the barre all to yourself to work on your mind and body!
Promotion for GLAMoms – First class $5! Email the studio to get set up!
16945 Marsh Road, Haslett
More about Skin Boss Med Spa
At Skin Boss Med Spa, we are dedicated to offering the best technology on the market and we're here to help you meet your goals. We pride ourselves in providing safe and effective treatments to our patients to help meet individual goals. We offer both truSculpt iD and truSculpt flex with our highly trained technicians. During your consultation, we will make a protocol that's designed just for you. Combination treatments can be customized to take you to the next level. Our process of listening, educating, and customizing a plan for each individual patient sets us apart from our competitors. 
Skin Boss is pleased to offer truSculpt iD as our leading body treatment in fat reduction. TruSculpt iD uses radiofrequency to heat the entire fat layer, resulting in an average of 24% fat reduction over a 12-week period after just one treatment! In addition to fat reduction, the radiofrequency can have a skin tightening effect to help with crepiness on the skin.
truSculpt® flex is a non-invasive body treatment cleared by the FDA, that uses Multi-Directional Stimulation to target muscles or muscle groups. The treatment can be customized based on the patient's body shape, goals and fitness level. The goal of the treatment is to tone and shape muscle groups. This can help patients get to the next level in fitness goals, beyond what they can accomplish in the gym or by working out.

Promotion for GLAMoms – Mention GLAMom's when you book your Body Treatment with Skin Boss to receive 20% off your first treatment!
A unique local mobile cycling studio 
More about Spin Junkie X Spin Junkie POPUp
Justin Smith is the founder of Spin Junkie Pop Up! He is the guy with all of the spin bikes that has one of the best seats in the house! "I say this because I totally thrive when I have the opportunity to collaborate with other locally owned businesses. I truly believe that collaboration builds community and here, we are able to showcase all of the awesomeness that is alive and well in the 517," owner Justin Smith shares.
Spin Junkie Pop Up is a super Unique Cycling Studio that is geared to change the way you channel wellness along with physical fitness and we are completely mobile. Yes, a mobile Spin Studio. Spin Junkie Pop Up is always gearing up with rides and collaborations that are always fueled with BIG MAGIC ENERGY! 
Lets Ride and Lift The Vibe!
2655 East Grand River Ave. East Lansing
More about State of Fitness
✨ Their Purpose
State of Fitness was created to shelter and nurture people who are seeking a more fit life but can't find the help and support they need to be successful in traditional fitness environments. Why do we feel training is crucial to success? Fitness is motion, and motion is life. If a person wants to maintain a high standard of living throughout their life, it is imperative to participate in a challenging fitness program several times a week at a minimum. The key to achieving success in fitness is strength training, which is at the heart of our training programs.
💪 Their Motto of Success
Strong people who move well and move often have a better quality of life.
🏃 Their Mission Statement
State of Fitness is a leading Mid-Michigan training facility that specializes in results-based fitness programs, sports performance, and healthy lifestyle guidance, empowering the lives of all who walk through our doors.
425 W. Grand River Ave, Suite D, Williamston
More about Williamston Sport and Spine
Williamston Sport and Spine is committed to helping you achieve your health goals. 
They offer the latest techniques, most current nutrition programs, cutting-edge testing and cleanest supplements to boost your health and wellness. Along with Chiropractic and Massage Therapy, they offer Whole Body Cryotherapy, Infrared Therapy, Compression Therapy and a completely non-toxic Spa. Your health is their #1 priority. 
Promotion for GLAMoms – Receive 15% off a signature facial when

purchased online

, use code GLAMOM at checkout!
More about YMCA of Metropolitan Lansing
The YMCA is the GYM that has it ALL! With a YMCA membership, you have access to a variety of amenities, offerings and classes for FREE! The YMCA is the gym that has everything you need to achieve your health and wellness goals for any age or activity level!
YMCA members are drafted once a month and with no contract you are able to cancel at any time. 
For more information or to take a tour, Stop into any one of our 4 YMCA locations TODAY!
Promotion for GLAMoms –

No enrollment fee, a $49 savings!
2 locations in the Greater Lansing area
1476 Haslett Rd, Haslett
914 Elmwood Rd, Lansing
More about Yoga Connect
Every individual is seen, heard, and supported where they are. We all are encouraged to watch and observe ourselves physically, mentally and emotionally. The Yoga Connect studio is where we connect – a safe environment that feels like home; where diversity is embraced and supported; where together we as a community of clients and staff create a shared experience of learning, growth & transformation.
Yoga Connect offers classes for every body, from the absolute beginner to advanced student. For every age from prenatal up to infant, child and tween!
 Two locations – Haslett and West Lansing. 
Promotion for GLAMoms – One week unlimited for $15
Additional Fitness and Wellness Resources in the Greater Lansing Area
Thank you to GLAMom's 2022 Fitness and Wellness Guide sponsor, Jenny Chaney, realtor at Century 21 Affiliated.
Whether it be buying or selling in the Greater Lansing area, Jenny will help you take the next steps in home ownership.
Please visit Century 21 Affiliated to learn more.