GLAMoms recently talked with Dawn Carson – Chief Dawn Carson – the first woman in the history of East Lansing Fire Department to serve as chief.  
We are proud to share more about Chief Carson, her long career in fire and EMS, a day in the life of a fire chief and how COVID not only forced many pivots within the East Lansing Fire Department, it created many growth opportunities.
AND, East Lansing Fire Department also provided some important reminders with GLAMoms about fire safety and fire prevention during the holiday season.  First – here is more about Chief Carson.
Please introduce yourself, where are you from, where do you reside now?
My name is Dawn Carson.  I am originally from Temperance, MI but now reside in Lansing, Delhi Twp.  
How long have you been a firefighter?  Were you a paramedic first?  
I have been a Firefighter/Paramedic for 27 years.  I was hired with both skill sets.  I worked as an EMT on the side for three years, and worked full time as an Athletic Trainer prior to switching career fields.  
What did you want to be when you were a child? 
Growing up watching Emergency 51 and Quincy, I thought I would enjoy this type of work.  College led me down the career path of Athletic Training.  I obtained my National Certification following college.  
Tell us about a day in the life of the East Lansing Fire Chief.  
I have held the position officially since Sept. 20, 2021.  I have been interim Chief since June 13, 2021.   
My day consists of  many meetings.  I arrive during shift change so that I may catch the off going and on coming crews to address any needs, concerns, or ideas the boots on the ground may have.  I am always looking to see how I can help make the department flow a little better.  
There are procedures to review, budgets to balance, and other stakeholders to work with.  I also work closely with the surrounding fire departments in both Zoom and in person meetings. 
Is there anything that changed during COVID, either policy, procedure or preference that yielded improvements? 
COVID was/is a challenging time.  There were many policies and procedures that needed to be altered, amended and modified.  This time is ever changing.  
I think with that, it has provided the friction which makes one stronger, more flexible and understanding.  We are a big family here at the fire department.  We adapted so that we can all remain healthy to provide the level of care expected from us to our community.  
We had to continue to operate as normal in spite of many departments working from home.  We have learned to lean on each other and be that moral support that is needed.  
What do you perceive as being challenging as East Lansing Fire Department's first female chief?  
First, being the first female is only second to the honor of being the Chief.  Much like being a Firefighter, you must be able to do the job without a gender title.  Fires do not know the difference.  
Much like the position of Chief, I am expected to do the job.  I am forever grateful to have the opportunity to serve in this capacity.  And thank the City Manager and City Council for feeling that I meet their qualifications and expectations.  
As to the challenges, I only see that people may be more watchful.  Firefighting continues to be a male dominated field.  I believe there is more acceptance, however, as a female, we may be watched closer.  
Thanks Dawn for sharing some of your story.  We are pleased to see your presence at East Lansing Fire Department and we look forward to your ongoing leadership in this highly revered profession. 
Now, here is the information made available by both Chief Carson and Fire Inspector John Newman. GLAMoms thought this was the perfect time to remind of some household safety tips during the holiday season.   
Here are a couple things to do in preparation for the festivities this week:

Prior to holiday entertaining and additional people staying over – test your smoke alarms – and buy some 9V batteries

Make sure you indoor tree is not over or near a heat source

Never leave candles unattended

Know where you fire extinguishers are located
Please see graphics provided by the East Lansing Fire Department below for many more reminders and hints about Winter Holiday Safety, Christmas Tree Safety, Religious Candle Safety and Lithium Ion Battery Safety.
Christmas Tree Safety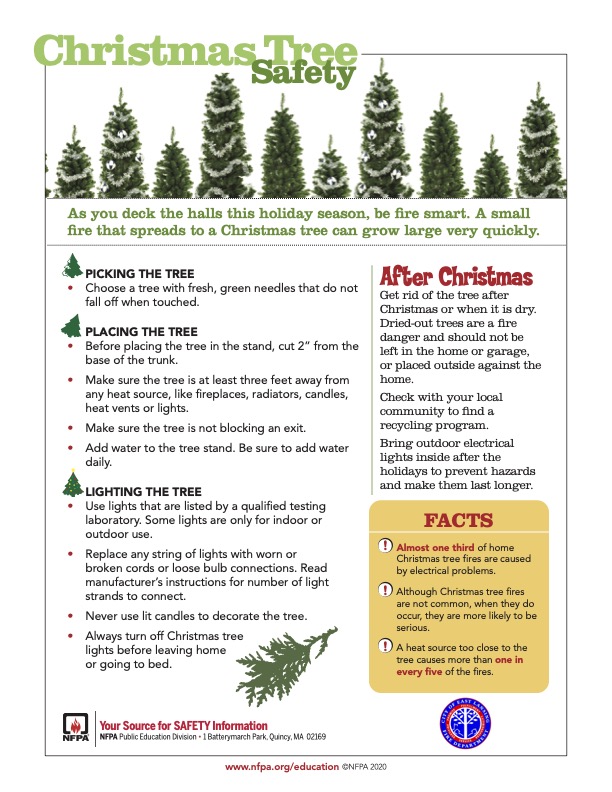 Lithium Ion Battery Safety
Religious Candle Safety
Winter Holiday Safety
Website City of East Lansing Fire Department
Facebook City of East Lansing