Do you want to build a snowman??
These friendly faces have been popping up all over Meridian Township since Mid-Michigan finally received some snow on Saturday. We did a little investigating and found out who was responsible for creating some of these snowmen. "It was a
fun day to get some friends together to make them, and I am glad that the community enjoys them. The real hero is the new librarian for Haslett Capital Area District Libraries, Thomas Moore. He got here in March just as everything shut down. He organized the snowmen and made a ridiculous number of them." says Korben Leung of the Haslett High School Key Club.
Unsolved mysteries of yet unclaimed mini snowmen
Interestingly, there have also been sightings of mini snowmen built on park benches throughout the trails at Lake Lansing Parks, Harris Nature Center and the inter-urban pathway. We have not yet found the special people responsible but we know Frosty would be proud to see to many of his "mini-me" blanketing the area. "Things like these are exactly what we need right now, positive little surprises that bring joy to the community and our hearts." says Mr. Moore. And we couldn't agree more!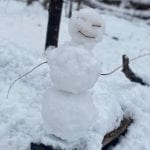 If anyone knows who is responsible for the mini snowmen, we would love to know! Just send us a message.
#doyouwantobuildasnowman #meridiantownship #joy #communityproject #hasletthighschoolkeyclub #capitalareadistrictlibraries #haslett #okemos #eastlansingareamoms #thelocalmomsnetwork