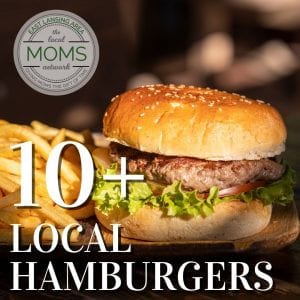 May 28th is National Hamburger Day – a great start to the weekend!  And summer.  And then summer means meals cooked outdoors on the grill – or dining out on an area patio – perfect timing to share a list of area Hamburger Spots.
ELAMom followers helped a bit when asked, "where is your favorite local place to grab a hamburger?"  
Here is what we learned.  And it is quite a burger bucket list around the Greater Lansing area!  
Airport Tavern
Crunchy's
Dagwoods
Family Tree Café
HopCat
Kewpees
Leo's Lodge
Leroy's 
Looking Glass Brewery Co
Mayfair
Olympic Broil (drive up)
Peanut Barrel
South Riley
Tavern 109
The Riv 
Wagon Wheel
Williamston Pub
We had a few who said their favorite hamburgers were prepared by family.  While others said a place in Mackinaw or Elk Rapids could not be touched in terms of burger awesomeness – perhaps that will make for another list.  
Surely this list is not comprehensive of all the best burgers in the area – but it is a start.  Did your favorite make this list?  If not, please share, we are always in search of something good to try!
Happy National Burger Day!